A geographic information system (GIS) integrates hardware, software, and data for displaying all forms of geographically referenced information. The Big Horn County Land Planning Department is responsible for maintaining and distributing different forms of GIS data.
GIS Data Requests
Limited GIS data layers are available for purchase from the Land Planning Department (contact our office for current fee information – 307-568-2424).
The Land Planning Department will only distribute data produced by and for Big Horn County including, but not limited to, privately owned parcels, public land parcels, roads and subdivisions. As we clean other existing data layers and make new ones, we'll post their availability for purchase.
GIS data requests, including a completed and signed GIS Data Sharing Agreement, can be sent to the Land Planning Department via mail (Big Horn County, Land Planning Department, P.O. Box 29, Basin, WY 82410), email planner@bighorncountywy.gov or fax (307-568-2461). All requests must include the following additional information: Contact phone number, contact email, and preferred format for receipt of data (e.g., CD or email).
Requests will be fulfilled as soon as possible, upon receipt of payment. Acceptable forms of payment include; cash, personal check, certified check, cashier's check, money order and bank check. Cash payments will only be accepted in-person. No third-party checks will be accepted. Checks shall be made payable to Big Horn County Treasurer.
GIS/Mapserver Online
In 2011, Big Horn County's online map server was made available to allow the public access to parcel data and ownership information for the county, as well as additional data layers. The map server has empowered the public to conduct their own research and create their own maps using an internet browser. Zooming and measuring tools are available, as well as tools to query available data layers to find more information.
The information displayed on the map server is not to be construed as a "legal description" or official record; it is for reference purposes only. GIS data presented may not be up-to-date. The Land Planning Department makes every effort to provide updates on a regular basis.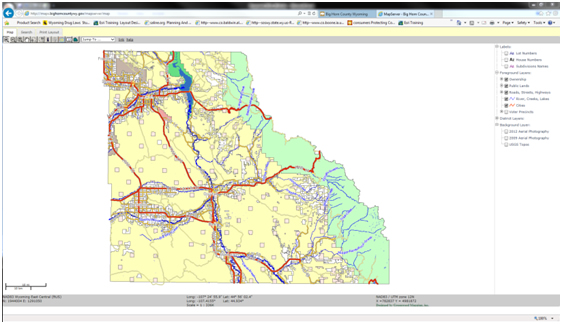 Maps For Download

Links To Other GIS Resources
Wyoming Statewide Parcel Viewer
Access soils data and create maps/reports.
Provides access to a wealth of downloadable data layers from a variety of data providers.
Source for environmental and natural resources data. You can choose your area of interest (e.g., state or county). Types of layers available for Big Horn County include: PLSS Townships and Sections, TIGER Census Blocks/Tracts, Climate Data, Elevation Datasets, Geology, Governmental Unit Boundaries, Hydrology, Land Use, Imagery, Topographic Images and Transportation.
GLO and BLM Survey Plats and Field Notes
Images of available survey plats and field notes for the entire state.