Community Baby Shower
July 24, 2018 5:00-7:00 PM
Information on Dry -Drowning
Click here for more information
SAFETY ALERT
Posted 2/12/17: Ice jams in the Big Horn River have started sooner than expected. Flooding has started in the Worland area. All those down river from Worland need to start preparing for ice jams and flooding. If your property has flooded in the past, there is a good possibility that it will flood now. Move livestock and machinery to a safe place. If you know someone that does not have access to Facebook or the internet please advise them. Updates will be posted on the County's Facebook page, the Sheriff's Facebook page, Big Horn County Emergency Management's Facebook page, the Sheriff's website and the County website. If you experience any flooding, please notify the Sheriff's Department at 307-568-2324.
ADDITIONAL INFORMATION AND RESOURCES
EPA Well Water-What to do after a Flood
Influenza Alert
download information here
2017 Avian Flu News Release
download release here
News from the Wyoming Department of Health
FOR IMMEDIATE RELEASE
Wednesday, January 4, 2017
Contact: Kim Deti
Phone: 307-777-6420
Wyoming Families Should Consider Radon Testing for Homes
January is National Radon Action Month
Wyoming families should consider testing the radon levels found in their homes to see if a potential health risk exists, as recommended by the Wyoming Department of Health (WDH).
Radon is an invisible, odorless, tasteless and dangerous gas found in homes, especially older structures. Radon naturally occurs as a radioactive gas released from the element radium and is found in rocks, soil and water.
"As radon naturally degrades, it can seep up into your home, get trapped inside, and build in intensity," said Julie Tarbuck, Wyoming Integrated Cancer Services Program outreach and education supervisor. "All homes have radon; however, with certain levels of radon, health concerns exist."
"Radon is recognized as the second leading cause of lung cancer," Tarbuck said. "The good news is exposure to radon is easily preventable with testing and modifications to your home."
An elevated level of radon is considered anything over 4 pCi/L (picocuries per liter of air) and should be fixed, while anything below 2pCi/L is considered within normal limits. Tarbuck said a lower level doesn't require immediate attention, but may eventually cause health concerns with prolonged exposure.
The Wyoming Integrated Cancer Services Program has low-cost radon test kits available for individuals and families to purchase, as well as resources for contractors, real estate agents and home buyers. For more information or to obtain a radon test kit, please visit www.health.wyo.gov/publichealth/prevention/cancer/radon online or call 307-777-3480.
Flu Vaccination:
It's Not Too Late!
With flu activity increasing and family and friends planning gatherings for the holidays, now is a great time to get a flu vaccine if you have not gotten vaccinated yet. A flu vaccine can protect you and your loved ones. Everyone 6 months of age and older should get a flu vaccine every season. This season, CDC recommends only flu shots (not the nasal spray vaccine).
While seasonal flu activity varies, flu activity usually peaks between December and February, though activity can last as late as May. As long as flu activity is ongoing, it's not too late to get vaccinated, even in January or later. An annual flu vaccine is the best way to protect against this potentially serious disease. Even if you have already gotten sick with flu this season, it is still a good idea to get a flu vaccine. Flu vaccines protects against three or four different flu viruses (depending on which flu vaccine you get).
Schedule your appointment with Big Horn County Public Health at either location Greybull 307-765-2371 or Lovell 307-548-6591
Big Horn County Public Health is funded by Big Horn County and the Wyoming Department of Health
Big Horn County Public Health Nursing
"Healthy People in Healthy Communities"
Wyoming Department of Health
"To Promote, Protect, and Enhance the Health of all Wyoming Citizens"
County Health Officer: Dr. David Fairbanks, M.D. FAAFP
Staff Photo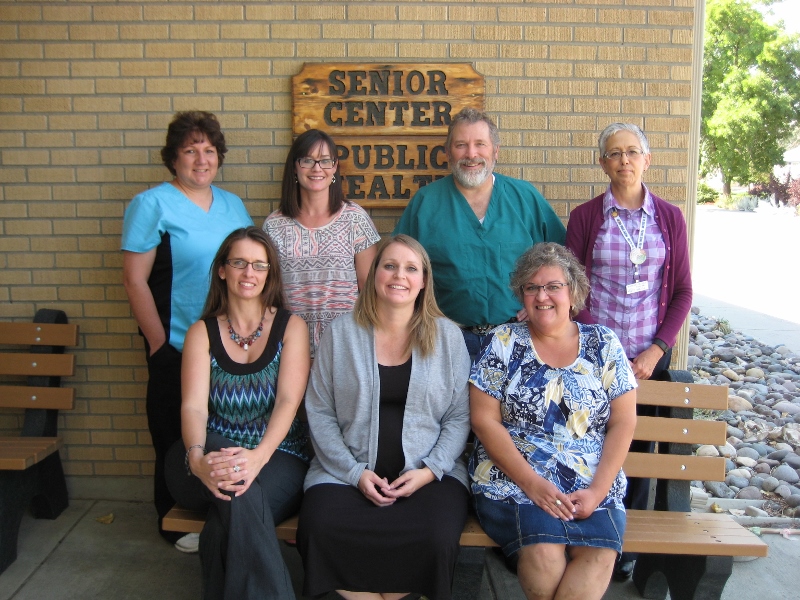 Back Row: Caroyln Barnes, RN - Lovell clinic, Kami Neighbors, Public Health Response Coordinator, Dr. David Fairbanks, County Health Officer, Trudy Craft, RN, BSN Greybull Clinic. Front Row: Kristi Stevens, Administrative Assistant Greybull clinic, Hillary Mulley, RN, BS Lovell Clinic Supervisor, Bobbie Jenks, RN, BSN Big Horn County Nurse Manager. Not pictured Tracy Jolly, Administrative Assistant Lovell clinic
Hours: Monday thru Friday
8am – 12 Noon and 1PM – 5PM
Closed Weekends and County Holidays